Dairy Your Way
(PDF, 4.6 MB)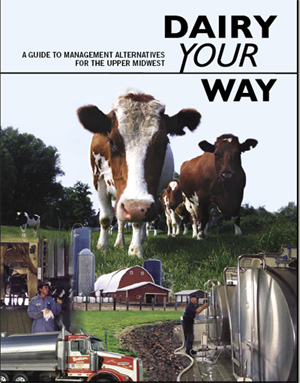 In Sections:
Front & Back Covers and Acknowledgements
(PDF, 334 kB)
Chapters 1, 2, & 3 — Housing Options
(PDF, 916 kB)
Chapter 4 — Grazing Production
(PDF, 713 kB)
Chapters 5 & 6 — Organic Production and Custom Heifer Raising
(PDF, 586 kB)
Chapters 7, 8 & 9 — Value-Added Processing, Milking Center Options, Entry & Exit Strategies
(PDF, 524 kB)
Worksheets and References
(PDF, 430 kB)
Fair Use of Materials:
You are welcome to adapt and use these materials as needed; and to download, print, and distribute any portion of this toolkit. Please do not charge recipients more than the cost of printing and handling. Please give the following credit:
"This publication was produced as a joint effort between MISA and the Minnesota Department of Agriculture"
---
The Minnesota Institute for Sustainable Agriculture makes all publications available online free of charge. We do have costs to research and develop our publications. If you would like to support that effort, we welcome donations:

Additional publications in this series:
Poultry Your Way (online at MISA) is also available free in print from The Minnesota Department of Agriculture, 651-201-6012, or MISA, 612-625-8217, 800-909-6472, misamail@umn.edu.
Hogs Your Way can be viewed online at MISA.