Poultry Your Way
A print copy of Poultry Your Way is available free from The Minnesota Department of Agriculture (MDA), 651-201-6012, or MISA, 612-625-8217, 800-909-6472, misamail@umn.edu. This publication was a joint effort between MISA and the MDA.
(PDF, 2.5 MB)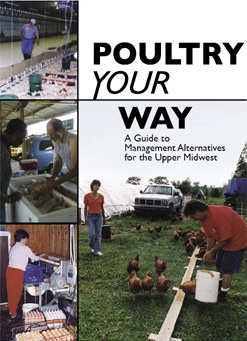 In Sections:
Front & Back Covers and Acknowledgements
(PDF, 277 kB)
Chapter 1: Taking Stock & Chapter 2: Poultry Overview
(PDF, 481 kB)
Chapter 3: Marketing & Chapter 4: Processing
(PDF, 513 kB)
Chapter 5: Management
(PDF, 1.5 MB)
Chapter 6: Best Alternatives & Chapter 7: Your Plan
(PDF, 175 kB)
References, Resources & Glossary
(PDF, 400 kB)
Additional publications in this series:
Dairy Your Way can be viewed online at MISA.
Hogs Your Way can be viewed online at MISA.