Minnesota Soil Management Series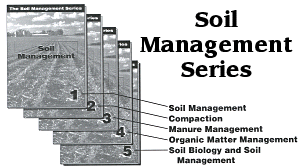 Whether you grow a few acres of vegetables for local markets, or two thousand acres of corn and soybeans for international markets, you depend on top performance from your soil. The Soil Management series is aimed at improving soil performance. Because each farm is unique, the series will not tell you the "best way" to manage your soil. Only you can decide that. Instead, it will help you make more effective use of recommendations from the university, consultants, and other advisors.
Fair Use of Materials:
You are welcome to adapt and use these materials as needed; and to download, print, and distribute any portion of this toolkit. Please do not charge recipients more than the cost of printing and handling. Please give the following credit:
"This publication was provided by University of Minnesota Extension."
---
The Minnesota Institute for Sustainable Agriculture makes all publications available online free of charge. We do have costs to research and develop our publications. If you would like to support that effort, we welcome donations: