This survey was conducted by the Livestock Processing & Meat Marketing team of the Local Food Resiliency Initiative launched in spring 2020 in response to food system issues exacerbated by the COVID-19 pandemic.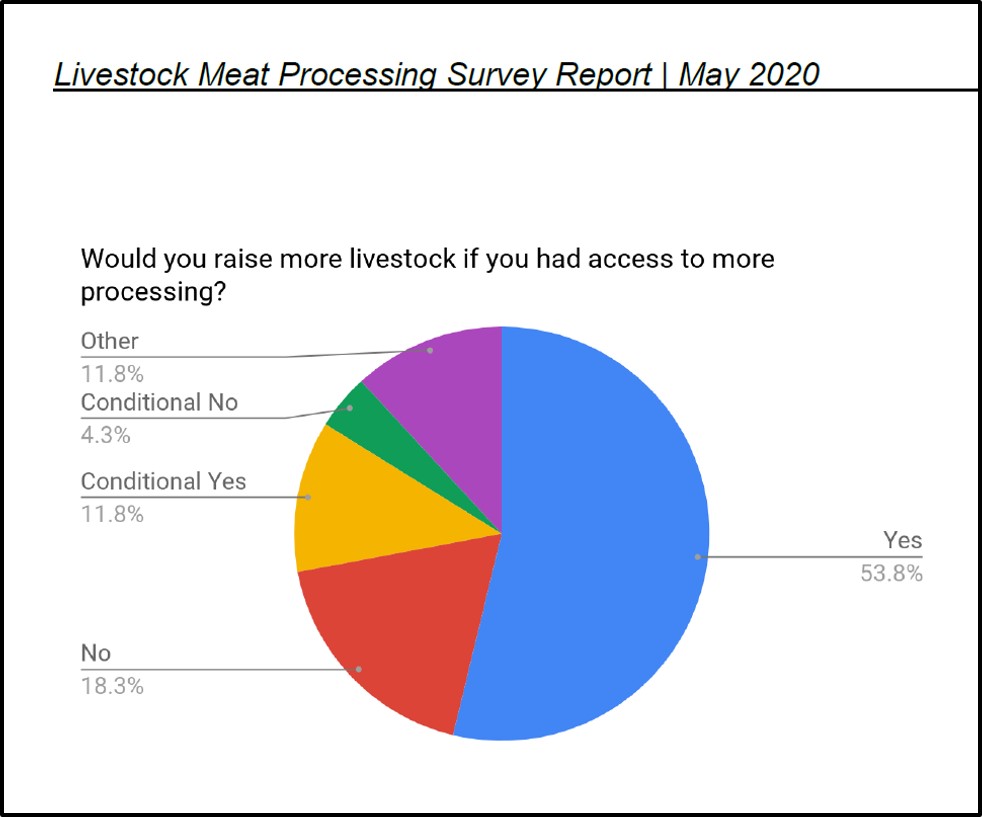 ---
Summary of 2020 Livestock Processing survey:
Lack of local meat processing is limiting farm businesses, underscoring need for sustained investment.
A survey of livestock producers released July 22, 2020 shows that Minnesota has a growing local livestock industry, but a persistent challenge for small and mid-sized livestock producers is limited small-scale meat and poultry processing. A group of organizations including MN Farmers Union, Sustainable Farming Association of Minnesota and Land Stewardship Project sent a survey to livestock producers in mid-May to learn about how producers were affected by COVID19 and plant closures.
Survey results, largely from farmers who 'direct market' their livestock to consumers, restaurants and food cooperatives, confirm what ag groups and others have known for a long time: Family farmers are experiencing a shortage of local livestock processing, made worse by COVID19 plant closures, and this is limiting their farm businesses.  The survey was conducted May 15-26th, 2020 and was sent to participating groups' members.
Well over half of the 111 survey respondents reported that there were too few livestock processing operations to meet farmers' needs for local meat processing, while only 17% reported that they did have adequate access.  Some 64% said even before the pandemic, processing was inadequate for their business. And a majority of respondents, 54%, indicated that they would raise more livestock if there was more processing available.
The majority of respondents direct market or sell at sales barns or auctions, and reported that processors of all types – USDA, "equal to" and Custom-Exempt – are booked out for months. "We were lucky to have already booked fall appointments but due to soaring demand for processing, I'm already booked for fall 2021, which would have been unthinkable in years past," said one respondent.
The survey also revealed that 65% of respondents have seen an increase in demand for their products. "Consumers are more aware of how important buying and supporting local (food) really is," said one farmer.  Notably, only 9.5% have experienced an increase in sale price though some who were surveyed reported market disruption causing cash flow problems this summer.
The lack of competitive markets and concentration in the meatpacking industry has been a decades-long problem, laid bare when workers became ill with COVID19, forcing shutdowns of major plants and heightening community spread of COVID19.  The resulting backups created more demand at local processors and reduced available slaughter dates for producers who regularly rely on these plants.
The Minnesota Department of Agriculture (MDA) has provided resources for producers and small-scale processors, recognizing that the pandemic and large packing plant closures have put pressure on small plants and the farmers they serve, including by expediting approvals for new 'Equal To' state-inspected plants, moving them up from 'Custom Exempt,' and fast tracking grant funding to increase slaughter capacity at small grants.  The Local Food Resiliency Initiative - Livestock Processing & Meat Marketing Team recommends a continuation of these MDA programs, even after the pandemic subsides.
The survey results suggested a need for greater investment in meat inspection, and expanded opportunities for workforce development training.  In addition, the survey respondents encouraged livestock producers to build proactive relationships with local processors.
---